"The Holly and the Ivy

When they are both full grown


Of all the trees that are in the wood


The holly bears the crown...
25"

Sources:

(1) Grieve, Mrs. M. A Modern Herbal (2 volumes). 1931. Dover Publications, Inc., New York, NY, pg. 406.
(2) Ibid, pg. 406.
(3) Green, Charlotte Hilton. Trees of the South. 1939. University of North Carolina Press, Chapel Hill, NC, pg. 349.
(4) Grieve, pg. 406.
(5) Ibid, pg. 609.
(6) Little, Elbert L. The Audobon Society Field Guide to North American Trees, Eastern Region. 1980. Albert A. Knopf, New York, NY, pg. 565.
(7) Green, pg. 350.
(8) Lust, John. The Herb Book. 1973. Bantam Books, New York, NY, pg. 227.
(9) Grieve, pg. 407.
(10) Lust, pg. 227-228.
(11) Ibid, pg. 229.
(12) Green, pg. 350.
(13) Grieve, pg. 609.
(14) Lust, pg. 229.
(15) Ibid, pg. 228.
(16) Grieve, pg. 407.
(17) Grigson, Geoffrey. The Englishman's Flora. 1955. Phoenix House LTD, London, England, pg. 116.
(18) Ibid, pg. 116.
(19) Green, pg. 345.
(20) Grieve, pg. 405.
(21) Ibid, pg. 405.
(22) Grigson, pg. 116-118.
(23) Grieve, pg. 405.
(24) Ibid, pg. 405.
(25) unknown author, quoted by Grigson, pg. 115.
---
by Epona & Imré
When Epona and I began our conversation regarding Holly, she used the image of a sweat- box with people scratching their nails on black boards to describe the prevalent energies during this, the eighth month of the Celtic Lunar Calendar. Holly brings with it intense psychological, metaphysical, and psychical implications. The battle between the Green and Red Knights (see Oak King and Holly King in 'Mythology & Psychology,' this issue), the Tanist, the Yin versus the Yang, the manifestation of incompleted emotional conflicts, and pure, bestial rage -- just to name a few. It is now the time of the year when negative emotions are at a peak. We just sit back and hope that someone will provoke us. Let's look at what is behind all this and attempt to understand how to breeze (ha-ha) through it.

Holly signifies the need to deal with unresolved emotions. Memories, feelings, and faces will come into the forefront and then drift away; that is, if they have been sufficiently dealt with. Those things that need finishing touches will not only linger in your mind, but Holly will provide them with the energy to manifest and confront you. If you turn your back on these issues, then the cycle will continue and you will not grow in those areas.

Along the same lines, conflicts between the Yin and the Yang will manifest. For the extremely Yin person, the Yang aspects of your personality will attempt to force themselves into the picture and visa versa. If you do not step aside and let the complimentary side, or the 'dark side' (dark denotes something 'in shadows,' or below the surface, not anything evil), of your being take its course, then you are in for a real emotional roller coaster ride. Your 'dark side' will do anything to get out, including drive you mad and lash out at your world. This, along with the intense heat, and the emotional conflicts aroused, lead to some pretty irritated people who will not think twice about acting out threats; so watch yourself. Be aware of the people around you and understand what everyone, including you, is having to deal with. We have found that overly Yang men are especially hard to deal with, and possibly dangerous, around this time (add the fact that we are still at the peak of Yang to everything that has already been stated and you will understand why).

Now the 'sweat box' metaphor has more meaning. The glyph for Holly is "I am a spear that roars for blood." Everyone is on edge, just waiting to be provoked, needing a reason, however small, just to draw blood. Go to the tree, take your herbs, go on vacation -- incidently, this is a very good time to go off on your own, to take a break, to get away -- do whatever you have to to survive this month. Keep in mind that once you have dealt with all of these emotions and conflicts, peace is just around the bend.
---
- by Epona '93
Oddly hate is not cured by love
but by Laughter
The Laughter that wells up
inside when I
finally understand
that nothing inside
this Construct has
to make sense.
One just lives it.
Hopefully learning fast enough
to stay away from
the Axe.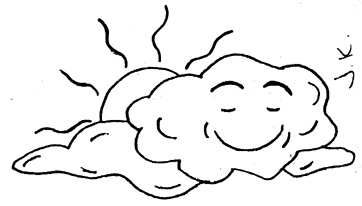 (Note: I don't remember WHO "J.K." is, but if you do, please email me!
---
by Muirghein ó Dhún Aonghasa (Linda Kerr)
Holly is a moon of strong mythological and psychological images and feelings. It is best explained by a description of the Oak King and the Holly King. In mythology, and the wiccan Wheel of the Year, the Oak King rules the first half of the year, from Winter Solstice to Summer Solstice. He is then sacrificed or killed by his tanist, the Holly King, who rules until the Winter Solstice. He is in turn sacrificed, and the Oak King is reborn.

This may sound simple on the surface, but there are many hidden meanings underneath (aren't there always?). Let's look at some of them, and how they relate to us as humans in the mundane world.

The tanist, to the Holly King, is the Oak King; and the Oak King's tanist is the Holly King. Each is the other's tanist. The term indicates the person's opposite half; not necessarily their dark side, but just the other side. Recall Star Wars: Luke had to enter the cave and confront Darth Vader. Upon killing his rival, his own face was revealed inside the dark one's helmet.

The Holly Moon is very much a moon of male/yang energies, and will especially affect those whose male and female selves, or yin and yang, are not in balance. One will continually rear its ugly head and try to kill or repress the other. This cycle will continue until the two reach an accord and join as one. You will know if you are reliving this cycle yet again if you feel unwarranted anger towards yourself or others, or if you feel like you have a nasty little person inside of you screaming to get out and wreak havoc. So how do you overcome this? Let's continue to look at the myth.

The Oak King is sacrificed at the Summer Solstice, and what happens then is manifested 45 days later, around Lammas. Look at what happened at the Solstice. The Oak King was killed by his rival. Is this going to make him happy? No! Does it make the Holly King happy? Probably. However, the two can still come together, as each serves its purpose in the Wheel of the Year. The Oak King represents the birth and growth of the sun towards its fullness, the planting and growth of crops, and the birth of animals. The Holly King is the decline of the sun and the increase in darkness, the harvest of the crops, and the sacrifice of weaker animals before the killing cold. For humans these two sides of the year mean an increase in physical and mental activity; a time to accomplish things in the outside world, and later an increase in emotional sensitivity and insight; a time to accomplish things within oneself or inside the home, and a resting period before the activity of spring.

These cycles of birth and growth, decline and death are a part of nature; one cannot happen without the other; both parts are necessary to the whole. So instead of our Oak and Holly Kings repeating the cycle of violently killing each other at the Solstices, the cycle is slightly changed to allow one to voluntarily be sacrificed, or step gracefully aside, so the other can come to the front. Recall again Star Wars: in Return of the Jedi Luke faces Darth Vader, who has turned out to be his father (another twist!). Vader struggles to bring Luke over to the dark side, and nearly succeeds when Luke responds with anger and hatred. But Luke recovers, and compassionately entreats Vader to join with him and overcome the Emperor, who personifies that nasty creature screaming inside you. Vader voluntarily sacrifices himself so Luke may become empowered, and when the helmet is lifted, the face is still Luke's father, not Luke himself. The cycle has been shifted.

Be very aware of yourself and your reactions to other people in this moon. The emotions you feel will be magnified and sent right back to you. Notice the word react: to re-act to something, to act in response to stimuli, or to act in opposition to some previous condition or act. This moon should instead be a time of action; get outside, expend some energy, renew an old friendship, take a trip. But don't sit around waiting to react to something or someone, because in this moon you are more likely to feel anger and hatred than in any other moon. And one of the mysteries of the lunar trees is this: whatever you feel during that moon is remedied by the tree itself. Go out and find a Holly tree. Sit under it. Talk to it. Bring a piece of it home (with permission, of course). Holly is well-known in folklore for its protective qualities, and these properties can help protect you from debilitating anger, hatred, and jealousy.
---
by Brighid MoonFire
Lammas is one of the Wiccan Sabbats and is opposite Imbolc (February 1) on the Wheel of the Year. Lammas is traditionally celebrated on August Eve, which is in Holly this year. It is called the Feast of Bread in celebration and honor of the Goddess of the Grain1, who was known by many names: the Corn Mother (Germanic), Cailliach (Celtic), and Demeter (Greek)2. Lammas is also associated with the Celtic festival of Lugnassad -- the sacrifice of the God Lugh3. And the God of the Grain was commonly known as John Barleycorn4 (grain was called corn in the British Isles; the name was later transferred to the Indian's maize in the New World).

It was believed that in each field of grain there lived the spirit of the grain. As the grain was cut the spirit retreated into the grain that was still standing. No one wanted to be the one to cut the last sheaf of grain, so they would take turns throwing their sickles at it until it was cut through. Some of the grain would then be gathered into a special bundle to form a Corn Dolly, which was shaped and tied to resemble a woman and dressed in women's clothing. She would be mounted on a post and carried ceremoniously back to the village in a procession of carts and wagons that contained the entire harvest. The Corn Dolly would be mounted in the barn near the thrashing floor while the harvest was thrashed, then kept in the farmhouse until Spring5.

Latin farmers worshipped the Goddess Ceres, viewed as the source of all food6. Both Romans and Christians kept her rites faithfully for fear of crop failure. In the British Isles, these rites consisted of farmers going round their corn with burning torches. There she was known as Cerealia, and from her name comes our word cereal7. Her celebrations were performed in mid-June, and continued there until recently.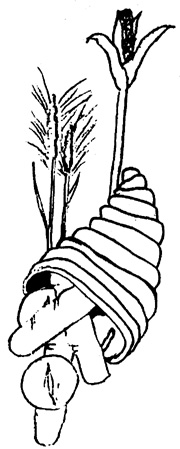 Everything about the harvest was sacred, or had some sacred meaning to it. The tools that were commonly used were the scythe and pitchfork. The pitchfork's tines resembled the antlers of the Horned One, and the scythe, with its curved blade, represented the crescent of the moon, which was the symbol of death also used by the Grim Reaper8. In fact, the harvest itself was the essence of life, death, and resurrection. The grain was planted in the fertile Earth, it grew, and was killed so that it could live again, not only in breads, but in next year's seed as well. In the harvest rituals, John Barleycorn often personified the grain. In this role, bread shaped as a man, or bearing a man's face, was baked from the grain and then passed around. People would tear off a piece and eat it and thus 'commune' with the God of the Grain9.

To make your own Corn Dolly, pick a handful of grain and tie a string around it. Then bend the tops down and tie again to form a waist. Take smaller bundles and add for the head and arms. Decorate if you wish. After the harvest, let her rest in a dark spot, ready for the Spring and the fertility of the Earth10.

Sources:

(1) Walker, Barbara. The Women's Encyclopedia of Myths and Secrets. 1983. Harper & Row Publishers, Inc., New York, NY, pg. 357.
(2) Campanelli, Pauline. Ancient Ways. 1992. Llewllyn Publishers, St. Paul, MN, pg. 124.
(3) Walker, pg. 528.
(4) Campanelli, pg. 114.
(5) Ibid, pg. 124.
(6) Walker, pg. 158.
(7) Ibid, pg. 158.
(8) Ibid, pg. 153.
(9) Ibid, pg. 112.
(10) Campanelli, pg. 125.
---
- by Raven '93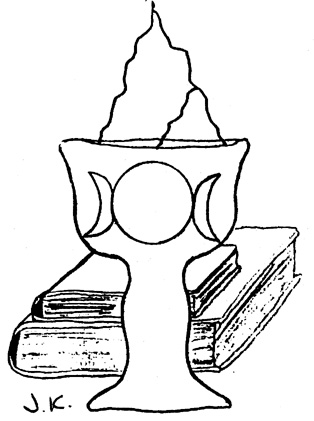 Lightning flash and thunder crash
a storm front's rolling in.
I guess that means
the Garden Club
is meeting once again.
The light in Miach's bedroom
was burning late all night.
So Muirghein and Epona
must have told him
to create a brand new rite!
When passing by Bridgit's house today
I heard a primal scream.
That means she's got
the newest FAX
"Do a report on forgotten dreams!"

All the phones in Auburn-town
are ringing off the hook.
Muirghein's calling all
at four a.m.
to read the newest book!

Epona's holding court again
as all can plainly see.
To answer questions,
and give advice
through a haze of smoke and tea!

Raven's eyes are growing blank
her mind has just shut down.
To remember songs
she's always known
and not trip on her gown!

Lightning flash and thunder crash
a storm front's rolling in.
I guess that means
the Garden Club
is meeting once again!
---
BUBBLES FROM THE CAULDRON
BOOK REVIEWS, ETC.
A Brief Selection of Herbals:

A Modern Herbal (2 volumes), by Mrs. M. Grieve. 1931. Dover Publications, Inc., New York, NY. Softcover, $9.50/volume.
The Herb Book, by John Lust. 1973. Bantam Books, New York, NY. Softcover, $6.99.
The Way of Herbs, by Michael Tierra. 1980. Washington Square Press, New York, NY. Softcover, $5.99.
Back to Eden, by Jethro Kloss. 1939. Back to Eden Books Publishing Co., Loma Linda, CA. Softcover, $6.99.
School of Natural Healing, by Dr. John R. Christopher. 1976. Christopher Publications Inc., Springville, UT. Hardcover, $39.95.
Reviews and Opinions by Muirghein (Linda Kerr)
Grieve's A Modern Herbal is probably my favorite herbal. The 2-volume set reads like an encyclopedia, and is chock-full of information on trees, shrubs, flowers, fruits, and vegetables, as well as the traditional herbs. She gives a very scientific description of the plant, a brief history of its commercial use, its folklore, and finally its medicinal properties. And the best part -- she gives the plant's chemical constituents! I thought it was great to be able to look up oak galls, and find that they are comprised of 50-70% gallotannic acid, 2-4% gallic acid, mucilage, sugar, and resin. But maybe you don't get so excited about that as I do. She also gives the family name of the plant, along with its Latin name and all common names -- very professional (don't trust any herbal that doesn't do this!). But, as the book was published in 1931 in England, some of her medicinal uses are out-moded (have you ever heard of dropsy or pleurisy?), her Latin names are a little off, and of course she concentrates on the British species. But this is more quaint than a problem.

Lust's The Herb Book is useful for modern medicinal applications and other practical uses of herbs. He offers quite a wide selection of herbs, but not as many as Grieve. He also gives Latin and common names, but as Grieve seems to be one of his favorite references (I've found sentences quoted almost word-foreword), the first species of the plant listed is usually the British one, and his common names can be misleading and confusing. The Herb Book contains a lot of information, but if you're just starting to learn herbs, it may be a bit overwhelming.

A simpler book to get through is The Way of Herbs. Tierra covers eastern and western healing methods and how they work together, and lists the most useful plants. He doesn't worry about folklore, astrology, dyes, perfumes, commercial uses, etc., but concentrates on the medicinal and healing properties of the plants. He is also one of the few modern-day herbalists I've read who doesn't reference outdated, inaccurate, esoteric English herbalists of the 16th-19th centuries. Tierra also has a video by the same name, which goes over in brief what his book covers. You get a nice walk around the garden and some good shots of herbs, but there's only so many times you can watch him grind up an herb or listen to his lecture on its properties while he's just sitting cross-legged and staring into the camera, before it's snooze-city. Good reference tape, but don't sit down and expect to be entertained by it.

Back to Eden, on the other hand, is very entertaining, and effective. Kloss lived during the depression, and has some great stories. He spends some time describing the plants, but his main focus is healing. He also has a good section on natural foods, with recipes. His plants and remedies are strictly American, although some of the illnesses he lists may not be as prevalent nowadays. Kloss's therapies may seem a little weird (he's got a thing for high enemas), but they really do work. He is extremely opinionated, and fairly radical, so of course I like him. Highly recommended. By the way: try to get the large-format softcover -- the standard size paperback is just too thick to be able to hold open and read easily.

Finally, the premier book on healing is Christopher's School of Natural Healing. Like Kloss's, this is more a treatise on health and healing than an herbal proper. The book is arranged a little awkwardly, listing the herbs in chapters according to their main property, but a quick look at the index will direct you to the plant or disease you want to read about. Christopher is also a little radical, and has a thing against milk, but his remedies do work, and his knowledge is extensive and amazing. The cost of the book may seem a bit prohibitive, but if you are serious about learning medicinal herbalism and natural healing, this book is a must.