In this way, the poet in all of us is able to reflect on past experiences and future wisdom, and gain inspiration. Keep in mind, however, that inspiration is not a thing of time, but a thing outside of time. It is the winged horse, Pegasus, who flies within and without the net of time. His mother, Medusa, warns the students of the mystery schools that that which is timeless, infinite, and divine cannot be reached through the conscious mind. The mind is only a product of time; it cannot function without time, knowledge (the accumulation of experience), and thought. The rational, thinking, commanding and calculating mind -- all of these are aspects of the Yang of the male, and Medusa turns men into stone -- she blocks the mind from inspiration. To walk past her and touch the infinite, to harbor inspiration, one must fly on the wings of Pegasus.
---
- by Epona
Cherish that which lives
Under the arch of Time.
For remembering is the only way
It will come again,
-- So unique the relation
Of the Universal hold:
In review you may see
But you may not be
In those same times again.
Currents of the River of Life
Washing to the Sea,
Pass On...
We remember
And forget to live the now.
Fading...
For too many memories make us old.
Holding back on Time
We act as dams against the Sea...
And there are breakers on the shore.
---
- by Epona, '82


Nion... Moonstruck
And Spinning,
Behind the Gorgon's mask,
I lie, impaled on this stake of ash.
My mind writhes and turns,
As the snake-locks of my hair;
I perceive Her reflection
On the swirling waters...

Muin...

Behind the briared hedge I yearn,
The snake-locks pull me toward the door.
Contracting snakes: in comes my strength,
But drives my mind to madness
To follow my hair...

Gort...

Beyond the mask,
Beyond the limits of the mind
Like the ivy going
Beyond its clinging Source,
Go I.
The gorgon's mask
No longer barred the door.
---
- by Raven '93

There was a little pagan,
who once was heard to say
that circle was too boring,
and going solo was the way.

She bought all the books and pamphlets,
oil and candles by the score.
Then she found a book of shadows
in a funky little store.

The price was just six-fifty!
At that price it was a steal.
Then she called her little witchlings,
and bragged forever about the deal.

All that night she read it
and her eyes got round and bright.
But soon the words grew scary
and she had to turn on the lights.

Her friends all begged to see it,
and she promised all that soon
she would hold a proper circle,
at the fullness of the moon.

So she studied just that one book,
ignoring all the rest.
And found a spell of calling,
that would prove to be a test.

Because the items called for
were strange beyond belief,
she decided that substitutions
would cause no undue grief!

Bloodworm eyes and ring worm spore?
That really couldn't be.
So garlic and oregano
will be the ones for me!

Although she searched the herbal shops,
more pieces she couldn't find.
So gravel was used for meteor dust,
and no ambrosia, but heart of pine.

The full moon came and all was set,
she had planned it out so well.
Her heart was filled with utmost cheer,
and her head began to swell.

She took her place at center stage,
and swirled her robes with grace,
and when she raised her arms on high,
her pulse began to race.

With open awe, her friends all watched,
as the guttural chant began.
But when the smoke coalesced and grew,
like panicked sheep they ran!

Our silly little pagan,
who thought she knew it all,
forgot the wording to her chant,
and saw IT reaching out its paw!

Stop! she said. Stay put! she cried.
You are bound now to my power!
Then she cringed, tried not to cry,
as the demon began to glower!

"Why yes, it seems, you've tried to bind,
but your plan did have a fault.
It seems that in your ignorance,
you didn't add the salt!"

When morning came and all returned,
they joked about their fright.
Then found the circle, rocks and all,
had vanished in the night.

So remember our silly pagan,
who didn't get it right.
She bought a book she didn't understand,
and was snuffed out like a light!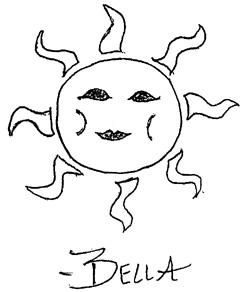 ---
- by Epona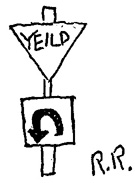 Ritual implies an imitation;
And imitation implies an original
Not present in this time and space.
How can you relate to something that isn't there?
Do you worship the tool? --
The tires on your car? --
Because of the concept
Which carries you around so you can go somewhere?
Or, does the going involve you?
And the tires take you?
Do you get out of your car
When you've arrived?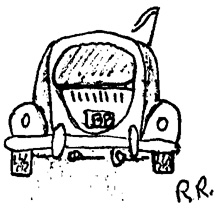 (Note: R.R. stands for Rudy the Red)
---
by Stormy

"The Speech of the High One"

I know I hung on that windswept tree,
Swung there for nine long nights
Wounded by my own blade,
Bloodied for Odin,
Myself an offering to myself:
Bound to the tree
That no man knows
Whither the roots of it run.

None gave me bread,
None gave me drink.
Down to the deepest depth I peered
Until I spied the Runes.
With a roaring cry I seized them up,
Then dizzy and fainting, I fell.

Well-being I won
And wisdom too.
I grew and took joy in my growth;
From a word to a word
I was led to a word,
From a deed to another deed.

-From the Old Norse

The Poetic Edda

(ca. C.E. 1200)

The above poem refers to the great Norse Shaman, Odin, when he received wisdom and understanding and unraveled the secrets of the runes while hanging upside down on the world tree Yggdrasil.

I don't know if he hung upside down on the Yggdrasil for nine days, nine months, nine years or nine thousand years! In the day of a god, just how long is a day? No doubt an immortal's day is much longer than that of the average mortal!

Odin, or Woden as the Anglo-Saxons of Breton called him, wounded himself and made himself his own offering to himself on the tree of life. The Yggdrasil is described as sort of a juniper, or yew tree, that always stays green, like an evergreen. The roots of the tree run so deep that no one knows where they end. This is symbolic of the mythical and historical beginnings of homosapiens. Our roots reach back to the aeons of time. The roots begin at the well, which is the entrance to the otherworld.

The severed head of Mimir is at the entrance of this well, guarding the entrance to the otherworld. The roots are inhabited by the three Norn Sisters: Urdhr (Past), Verthandi (Present), and Skul (Future). It is their job to make sure the tree is well-fed so that it can go on growing. This part of the myth probably refers to a time before patriarchal religion, when the Goddess was worshipped solely. The three Norns are probably a forerunner of the Celtic Triple Goddess, Brigit, depicted as Virgin Maid, Mother and Crone.

Odin while on the tree fasted a long time until he reached what is called an "ecstatic state" in shamanism. He cried out, fell from the tree and fainted. While in this state, he received the wisdom and secrets of the Runes. The knowledge he acquired from the otherworld enabled him to become a more powerful Shaman; so powerful, that many elevated his status to a god.

Today, a legacy left behind are the days of our week. Each day is a reminder of the Norse Mythology.

Monday: "Moon's Day" governs the emotions, wildlife, fertility and life giving waters. This day honors the Goddess, the moon cycles, the tides and our feelings.

Tuesday: "Tiw's Day" represents the spirit of justice, discipline and integrity. Although he was the God of war, he was also a peace keeper and spiritual warrior.

Wednesday: "Woden's Day" represents Odin, the Norse God of magic, battle fury, protection, inspiration, ectascy, consciousness and communication.

Thursday: "Thor's Day" was named for a huge and hearty Norse god who was a defender against the world of chaos with his hammer of thunder. He was a popular god because he was a defender, a protector, brought needed rain or could cause a calm.

Friday: "Freya's Day" represents harmony, pleasure, beauty and the arts. The Norse warrior Goddess, Freya, had the power to decide who would die in battle, and was also responsible for bringing men and women together in fertility. She had the power of giving or taking life.

Saturday: "Saturn's Day" is not of Teutonic or Celtic origin but comes from Roman Mythology and the God Saturnus. He was honored for representing a time when no one was a slave, a subordinate or a superior. He also represented a time when age, wisdom and maturity were respected.

Sunday: "Sun's Day" represents vitality, self-expression, pride, creativity and life. In some European cultures the Sun could represent a goddess as well as a god.

Sources:

The Book of Runes, Ralph Blum, St. Martins Press, N.Y., 1987.
The Goddess in the Office, Zsuzannah E. Budapest, Harper San Francisco, 1993.
Fire in the Head, Shamanism and the Celtic Spirit, Harper San Francisco, 1993.

Send a self-addressed envelope to "Stormy" in care of The HAZEL NUT to request reading list for more information on runes and Norse Mythology.
---
BUBBLES FROM THE CAULDRON

BOOK REVIEWS, ETC.

The '94 Lunar Calendar - Dedicated to the Goddess in Her Many Guises, by Nancy F.W. Passmore. 1993. Luna Press, Boston, MA. 8 1/2x11; opens to 11x17. $14.95.
- Reviewed by Muirghein


I know it's a little early to think about calendars, but we've just received the '94 Lunar Calendars almost literally hot off the presses.

The Lunar Calendar is the lovely calendar that graces our centerfold every issue, so look to that for a preview. The '94 calendar features original artwork and/or poetry above each month. Also included are the quarter and cross-quarter holidays, and tons of lunar information throughout and in the back.

The Lunar Calendar is inspired by Robert Graves' The White Goddess. Each lunar month corresponds to a tree. Look in the center of each month's spiral of moons for a brief explanation of the energies for that lunation. (By the way, these explanations were written by our own Epona!)

The Family Wicca Book by Ashleen O'Gaea. 1993. Llewellyn Publications, St. Paul, MN. Softcover, $9.95.
- Reviewed by Mirhanda Spellesinger


This book is a MUST for Pagan parents! Ashleen O'Gaea has filled a void with this work. While most books of rituals don't really allow for small children, this one has rituals specifically geared for groups that include little Pagans. Child-free Pagans will also enjoy this book as it has wonderful ideas for all Pagans. There is a guided meditation that is useful for Pagans of any age, simplified rituals, and useful ideas for explaining death, life, why "bad" things happen, sex, and why some people think we're Satanists. I think everyone will want to build O'Gaea's 'Elf-lights' -- I know we did! (If you want an explanation of 'Elf-lights' you'll have to read the book!) While this book is specifically geared to Wiccan parents, I truly think there is something for any Wiccan in this book.

Mirhanda Spellesinger has been a Witch all her life, but didn't realize it until 1987. She lives in the mountains of Tennessee with her husband and magickal partner, along with their two daughters, myriad cats, and a dog. She very much enjoys correspondence and meeting other Pagans.

The Tao of Pooh, 1982, and The Te of Piglet, 1992. By Benjamin Hoff. 1992. Penguin Books, Penguin Group, NY. Softcover, $9.95 each.
- Reviewed by Muirghein


I knew nothing about Taoism when I first read The Tao of Pooh, so I went into it with no pre-conceived notions. Taoism, for those of you who aren't familiar with the concept, "is a way of living in harmony with Tao, the Way of the Universe, the character of which is revealed in the workings of the natural world." The book is very lightly and humorously written, making a deep subject quite easy to understand. I immediately put it on our group's required reading list.
Then just recently The Te of Piglet appeared in paperback. Again, I knew nothing about the Te, which, in a nutshell, means the virtue of the small. This book was just as enjoyable and readable as the first, but with a lot more social and political commentary. And, surprisingly, rather pagan in the last chapter! I found myself agreeing with a lot of what he had to say, and again, put it on our required reading list.

I highly recommend these books; they are easy to read and understand, and leave you with a very happy feeling!

Real Men Don't Bond, 1992, by Bruce Feirstein. Warner Books, Inc. New York, NY. Softcover, $6.99.
- Reviewed by Muirghein


My husband received this book as a Christmas present last year, and I thought the title was great, considering all the Robert Bly workshops and wildman weekends currently trendy in the new age scene. So when I was looking for some light reading recently, I decided to read Real Men Don't Bond.

Well, I was surprised. While the reading was light, it was certainly not mindless male chatter. 'Flex Crush,' the Real Man interviewed in the book (which, by the way, is a sequel to Real Men Don't Eat Quiche), actually has some good things to say. For instance: George Bush is not a Real Man, but Barbara Bush is, and Real Men suspect the country might truly be a kinder, gentler nation if he had listened to her more often. And: Real Men recognize you can't have rights without responsibilities; Real Men compost. Flex even has something to say about Real Women, who are "still pissed off that the business accolades 'tough, performance-oriented and no-nonsense' translate to 'bitch' when applied to a female."

Good teachings disguised as humor -- for men and women.