Along with its great food value, cattail has other uses: Indians lined papoose baskets with the soft down from the blooms; pioneers used the stems for candle molds; and people dipped the spikes in coal oil and used them for torches. The fibers from the blossoms, stems and leaves can be used as jute, and for stuffing furniture and making burlap and webbing; and the fluffy flowers can be pressed and made into a good sound and heat insulating material.(28) Cattails also have a few medicinal properties: they have been used to treat gonorrhea, worms, and diarrhea, and the chopped root can be applied to burns and minor cuts. The Chinese use the plant to stop bleeding.(29)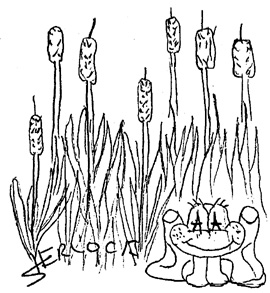 Notes:
1 Grieve, Mrs. M. A Modern Herbal (2 volumes). 1931. Dover Publications, Inc., New York, NY. pg. 124-125.
2 Ibid, pg. 125.
3 Ibid, pg. 125.
4 Ibid, pg. 126.
5 Ibid, pg. 127.
6 Ibid, pg. 125.
7 Ibid, pg. 125.
8 Ibid, pg. 126.
9 Grigson, Geoffrey. The Englishman's Flora. 1955. Phoenix House LTD, London, England, pg. 128.
10 Ibid, pg. 129.
11 Grieve, pg. 124.
12 Ibid, pg. 127.
13 Ibid, pg. 127.
14 Rodale's Illustrated Encyclopedia of Herbs. Edited by Claire Kowalchik and William H. Hylton. 1987. Rodale Press, Emmaus, PA, pg. 55.
15 Lust, John. The Herb Book. 1974. Bantam Books, New York, NY, pg. 349-350. 16 Grieve, pg. 127.
17 Rodale's, pg. 55.
18 Meuninck, Jim. Edible Wild Plants and Useful Herbs: The Basic Essentials of. 1988. ICS Books, Inc., Merrillville, IN, pg. 4.
19 Ibid, pg. 1.
20 Ibid, pg. 1.
21 Ibid, pg. 2.
22 Harris, Ben Charles. Eat the Weeds. 1961. Keats Publishing, Inc., New Caanan, CN, pg. 103.
23 Hunt, David (ed.). Native Indian Wild Game, Fish & Wild Foods Cookbook. 1992. Fox Chapel Publishing Co., Lancaster, PA, pg. 208.
24 Meuninck, pg. 2.
25 Harris, pg. 103.
26 Meuninck, pg. 2.
27 Ibid, pg. 2.
28 Harris, pg. 105.
29 Meuninck, pg. 2.
---
LUNAR ENERGIES & ESOTERICA: REED
by Imr&eacute and Muirghein ó Dhún Aonghasa (Linda Kerr)
The twelfth moon of the Beth-Luis-Nion calendar is Reed, or Ngetal. The Reed moon is a time to protect the home and prepare for the coming winter. The ancient Egyptians used Reed to form the shafts of their arrows. In cast of attack, these arrows would saturate the air and swiftly fly, like the rays of the sun, towards their enemies. For this reason, the Pharaohs, who were believed to be gods on the Earth, used these solar rays to signify their divine royalty, displaying their command of the sun.

Ngetal brings the harsh winter season to the old Celtic lands. In Ireland, the Reed was used to thatch roofs; this was an effective way to protect the house from the cold winter air. It was believed that a house was not completed until its roof was properly thatched (the mystery of the number 12 established power and order).

Reed also speaks to us of the death of the year. The dried river beds, carpeted with the tall Reed, rattle the haunting call of death as the blistering cold winds dive through them. The screech of the night owl, the bird of Reed, warns of the death of a loved one.

This is a time of change, which to some can be terrifying. If, in the previous moon, you did not reign in your low self, your base emotions, they can run rampant with you now. As the end of the year creeps towards us, we feel the need for companionship, but are frequently not happy with our own company. Use this moon to go inside yourself; examine your feelings, your emotions, your unconscious self. Repressed emotions will only spill over; they must be acknowledged, and gently brought to light.

There is another side to Reed-the joy of music. Music to still the fluttering heart, music to lay ease to the shadows beyond the firelight, and in the depths of the unconscious. For what overcomes terror but joy? Music can also bring companionship and brighten the dark winter months.

"I am the threatening noise of the sea," proclaims the Reed before she reveals her deepest mystery-the mystery of protection and joy. For, although she reigns over the beginning of the season of death, she also provides the protection, within her wands, to aid the lonesome traveler through the path of icy death with the rays of the sun, which awaits its birth at the Winter Solstice.
---
- by Epona '81
Netting the roebuck of my raveling mind,
Around the twice-squared circle I run...
...To stop and suddenly See...
To and fro
The Spider weaves;
The mind in lunar light:
Perfect mirror...
To and fro
The Spider weaves,
But She knows Her nets
Are made for food and progeny.
And...
How knows the Spider
Whither Her place to Spin?
She ceases Her netting to and fro
And flings Herself
Between the net just passed
And the net that's yet to be,
Flowing on Her silken cord,
Riding through Infinity.
And, then...
Once more,
To and from,
She weaves;
Once more She goes,
Remembering.
---
- by Epona '81
0 clinging vine,
Wrapping around the reedy stem.
0 grasping me,
Clinging to a core of Nothingness.
Through the very hollow of me
Is a channel of Life's flowing.
But a reed which never dies
Never sings...
And the reed, which sings with 'human' sounds,
Is still a reed,
With Hollow Core;
As is the dying reed,
Growing its song along restless shores.
The hollowness, the hallowedness,
Is there in life and death.
Just know:
The Flowing Through of Life
Is not changed
By clinging.
Only difference in the music,
The musing,
The reed may have
By its special form.
...The rest is Life's.
---

What are runes? Where are they derived from? How do you use them? These questions and more will be answered as I write this column each issue.

There are 24 Elder Futhark Runes of Germanic origin, 16 Younger Futhark Runes of Norse origin and 24 to 33 Old English Runes. Because of the interest in the Celtic revival, I will discuss the 24 Elder Futhark Runes used by the Anglo-Saxons.

"Futhark" refers to the first six runes of the Elder Runic Alphabet of German origin. They are Fehu, Uruz, Thurisaz, Ansur, Rad, and Kano. They spell out FUTHARK.(1)

There are now 25 runes with the addition of the blank rune 'Wryd,' which was added sometime at the beginning of this century. Runes have been around for 2,000 years and some of the symbols are much older than that.

Wryd is a rune of the unknown, and represents the beginning, the end, and total trust. It is the Sanskrit Karma, that which we are, the total sum of what we once were, and the total sum of what we can become as our debts and credits shift. It requires that we take total responsibility for our own actions, be they good or bad.(2)

Wryd takes its name from the Norse Wryd, pronounced weird. Wryd is the collective name for the three beautiful Norse sisters known as the Norns. They are known as "Urdhr," past; "Verthandi," present; and "Skuld," future. They had the responsibility of keeping the yew tree Yggdrasil watered, pruned and looked after. They represented all knowledge, were special patrons of the art of divination, and had the power to weave destiny.(3)

The Norn sisters gave Odin the runes during his shamanic experience on the World Tree, Yggdrasil. Monica Sjoo, coauthor with Barbara Mor of Great Cosmic Mother, and illustrator of the cover of Ariadne's Thread by Skikhinah Mountainwater, was taught in her native country that the Norns were the originators of the runes.(4) This conforms with the transformation of Goddess matriarchal myths to the patriarchal myths. Nearly every source about the runes will give credit to Odin, with a vague reference as to who actually gave him the runes and the wisdom to understand them. Much of the truth is lost because the original wisdom was not written down, but was by word of mouth. Also, during the European mandatory conversion to the patriarchal religions, much was lost or combined into these religions.(5)

Some people are particular about their runes and do not loan them or let anyone touch them. I have a set of ceramic runes to teach others but my personal set is made from cherry wood. My cousin and three daughters all have runes made from oak wood. My husband cut the small rectangular 1" x 3/4" pieces for us and I burned the rune symbol into each piece while meditating upon the meaning of each. Runes can be made out of natural materials such as stone or from wood of any of the sacred trees, but please use discarded branches. Rune sets purchased from metaphysical stores can be expensive to purchase. A set that you make is very special and much cheaper. My husband calls my runes the 'little Druids.'

Runes should be stored in either handmade or store-bought bags with draw strings. They should be large enough to hold all the runes, and to allow a hand to go into the bag to pull a rune out. The bag used to store the runes should also be made from a natural material like cotton, leather or silk.

The easiest way to get started in rune divining is to ask a 'yes' or 'no' question. Mix the runes up in the rune bag and select one with the left hand, usually referred to as the pagan hand. One school of thought is that if you are right-handed, the right hand is active and conscious, while the left hand is passive and subconscious. If you are left handed, then the left hand represents the active and subconscious, while the right hand represents the passive and subconscious.(6)

There are eight runes that when turned are read the same either way and cannot be used in answering 'yes' or 'no' questions. Place them back in the bag if chosen, shake up the runes and choose another that can be reversed.

These are the runes that cannot be reversed:


Gifu - gifts, partnership, love, a kiss

Yr - defense, yew crossbow, check money resources

Ing - fertility, family, relationships, marriage

Jara - cycles, fruition, to complete a project

Hagal - disruptions, hail, can overcome eventually

Sigel - wholeness, sun, light, victory is possible

Daeg - day, breakthrough, can be different tomorrow

Is - ice, standstill, wait for a thaw then proceed

The runes that have reversed positions are:*


Ur - strength, aurochs, wild energy, health

Odal - inheritance, ancestral home, spiritual source

Os - signals, messenger, word of mouth, communication

Man - mankind, self, relationship you have with yourself and/or others

Eolh - protection, elk, be on guard

Nyd - pain, constraint, mandatory experience you would not have chosen but need

Peorth - initiation, cups, chance, secret, finding something you lost

Tir - victory, able to overcome an obstacle

Ken - torch, opening, fire, able to see the way

Wyn - joy, happiness

Feoh - possessions, cattle, nourishment, business

Rad - travel, wheel, cycle of life

Lagu - moon cycles, rhythms, flow, water, tides

Eh - movement, horse, progress, journey, job changes

Beorc - family, fertility, growth, birch tree, new beginning

Thom - gateway, Thor's hammer, protection

*Reversed positions have the opposite meaning of meaning above.

Notes:

(1) Dolphin, Deon. Runic Magic. 1987. Newcastle Publishing Co., Inc., North Hollywood, CA, pg. 28.
(2) Peschel, Lisa. A Practical Guide To the Runes: Their Uses In Divination and Magick. 1991. Llewellyn Publications, St. Paul, MN, pg. 30-33.
(3) Ibid.
(4) Mountainwater, Shekhinah. Ariadne's Thread: A Workbook.of Goddess Magic. 1991. The Crossing Press, Freedom, CA, pg. 218.
(5) Gadon, Elinor W. The Once and Future Goddess Magic. 1989. Harper & Row, Publishers, San Francisco, CA, pg, 111-114.
(6) Willis, Tony. The Runic Workbook: Understanding and Using the Power of Runes. 1990. Sterling Publishing Co., Inc., New York, NY, pg. 30.

Stormy (Carol Thompson) lives in Auburn, AL with her husband Don and three daughters. Her interests are: esoteric study of runes; Wicca; and women's mythology. She is currently working on a book about runes.
---
Dear Editor:

I must voice my dismay at your inclusion of the poem "Pride Before the Fall" by Raven in the Hazel/Vine, September (Vol. I, No. 4) issue. I felt this poem to be insulting to the many solitary practitioners of Wicca. It seemed to imply that Solitaires are foolish enough to practice negative magick.

It is time for Pagans to stop Pagan-bashing. We all share basically the same beliefs and do many of the same things in our circles. We all love the Goddess and God by whatever names we know them. Leave the Pagan-bashing to the Fundies! Let all of us Druids, Gardnerians, Faerie Faith, Solitaires, Dianics, whatever live in peace with each other! I cannot stand to see my Pagan sisters and brothers snipe at each other over who is "more" Wiccan than whom. Let us finally realize that IT JUST DOES NOT MATTER HOW ONE COMES TO THE CRAFT! What matters is that we all felt and heard the call of the Goddess. The Lady and Lord have chosen each of us and who are we to question Their wisdom? After all, who initiated the first Witch?

Let us in the future emphasize our similarities and not our differences. As the saying goes, "We all come from the Goddess."

Love and Light,

Mirhanda Spellesinger

Oneida, TN
(Editor's reply)
Dear Mirhanda:

It seems that there is a constant, on-going battle within the Pagan, especially Wiccan, community regarding group vs. solitary status of a practitioner. I personally think this is silly and petty, but I do have a broader opinion of the matter.

Regardless of religion, spiritual path, or lack thereof, each being on this planet is a unique individual on a personal path. At various times during our journeys, we bump into people who have a certain flavor or twist to their path that may interest us and we tag along for as long as the flavor suits us. When we are no longer benefitting from the knowledge that they have to share, we give them our thanks and blessing and continue separately. People who make qualitative statements about other people's paths--i.e., 'solitaires' or 'group members' are better or worse than the other--are only making public statements of their own lack of self-esteem and understanding, and if that's what they need to make themselves feel worthwhile, then let them have it, because we know better.

I don't think Raven was attempting to state a political bias with her poem. Her words struck me as a statement warning the debutante of the dangers of becoming self-absorbed and egocentric when studying the magical arts. In this case, the neophyte refused the help of wiser teachers and started her own group (she didn't have circle alone). One does not have to join a coven or study group in order to receive a few words of wisdom from another (we all read books, and that certainly doesn't make us a member of the author's coven, although we are learning from them).

I thank you for your concern. I personally do not condone any kind of political architecture where religion is concerned and I will make every effort to keep that kind of propaganda out of THE HAZEL NUT.

Imre Rainey, Editor
---
BUBBLES FROM THE CAULDRON
BOOK REVIEWS, ETC.
The Art of Divination, by Scott Cunningham. 1993. The Crossing Press, Freedom, CA. Softcover, $12.95.

While this is not the only book on divination that you will ever need, it is an excellent overview of almost every method of divination ever used by humanity. This is an excellent reference for those who want to know more about divination or for those who haven't yet found a method that they like. There is also an excellent bibliography in the back to help the reader find a more in-depth study of his or her chosen method. Scott gives many methods of divinaiton--he even gives a method of divining the best method to divine with! The methods covered in this book include: alomancy, austromancy, bibliomancy, botanomancy, catoptromancy, cromniomancy, dactylomancy, lecanomancy, phyllorhodomancy, and tephramancy. There are many others in addition to this short list. For those who want to expand their knowledge of divination, or for those seeking a first book on divination, this book is recommended most highly.

Reviewed by Mirhanda Spellesinger

Wheel of the Year: Living the Magical Life, by Pauline Campanelli. 1990. Llewellyn Pulbications, St. Paul, MN. Softcover, $9.95.


This is a book no Witch should be without! It covers the year month-by-month and contains ways to celebrate our religion every day. Ms. Campanelli gives us many ideas aobut how to seasonally decorate our homes, much folklore, even spellwork! For example, the November chapter contains such information as: a fire-magic ritual, dressing ritual candles, the color wheel, the Wheel of the Year, an explanation of the Snow Moon, the Pagan origins of Thanksgiving, and much, much, more! The October chapter includes: apple traditions, a wassailing ritual, the Jack-o'Lantern, the Blood Moon, the Samhain Feast of the Dead, traditional methods of divination for Samhain--I could go on and on. I give this book my highest recommendation! At $9.95, this book--richly illustrated by Dan Campenelli-- is a steal. You will find yourself referring to this one over and over again!

Reviewed by Mirhanda Spellesinger